EN
Looking at the Tempelhof Airport building near Tempelhofer Feld, the mixed media live installation THF Video Station highlights the memories and dreams of residents of the area and its surrounding neighbourhoods. Visitors are invited to participate in creating an archive of urban perspectives by sharing their stories and wishes for the future, including as on-site visual and audio samples. Trial and Theresa joins forces with Torhaus Berlin and THF Radio to create a space for exchanging ideas about a livable urban coexistence.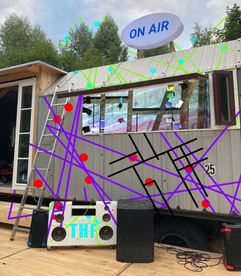 Wednesday November 16th 2022
Torhaus, Columbiadamm 10
6-10 pm
https://www.urbanepraxis.berlin/
https://torhausberlin.de/

DE
Nahe dem Tempelhofer Feld auf das Flughafengebäude blickend betrachtet die Mixed-Media-Live-Installation THF Video Station Erinnerungen und Träume der Anwohner des Bezirks und der umliegenden Nachbarschaften. Die Besucher*innen sind eingeladen, sich am Aufbau eines Archivs urbaner Perspektiven zu beteiligen, indem sie ihre Geschichten und Wünsche für die Zukunft teilen, einschließlich als Bild- und Tonaufnahmen vor Ort. Trial and Theresa schließt sich mit dem Torhaus Berlin und THF Radio zusammen, um einen Raum zum Ideenaustausch über ein lebenswertes städtisches Miteinander zu schaffen.
Mittwoch, 16. November 2022
Torhaus, Columbiadamm 10
18-22 Uhr