Some impressions from Firehouse Sessions #01
Time became fluent and turns itself like a broken compass needle: Channeling im/possible future visions against inevitable outcomes and speaking in planetary solidarity, the feminist VJ collective Trial and Theresa plows through the thickness of the multi-verse, generating video installations, Live A/V and rogue feedback signals. An invitation goes out to the 48h audience to take their own festival shots and slip them into the shared image stream (code: #firehouse48h). Once in a while, the collective oracle dips into this mycelial network of moving images from future pasts, feeding them back through time cracks on the walls.
Daylight: Video installations brewing inside Babette's copper tanks
Nighttime: Collective VJ-ing, Live A/V, Impro-sets

Trial and Theresa performed their first edition of the "Firehouse Sessions" as part of 48 Hrs Neukölln 2019 at Café Kosmetiksalon Babette in Berlin (June 14th-16th, 2019). Contributing to the festival theme "Future III", the collective used footage from the realm of New Material Feminism as a gesture of envisioning im/possible futures and planetary solidarity. "Firehouse Sessions #01" consisted of collective VJ-sets, Live AV and site-specific video installations inside Babette's old brewery hubs.
Participants
A-li-ce // Ane // ann_on_loops // BeBab // Cojasch // Dalia Castel // dasS // Faulty Agatha // Françoise Rosen // Girltronic // Grit.Kit // homonym // VJ Isa // Jess // jitterhorse // Lenna Stam // MARLON (Mary Lilith Fischer) // Milena Pafundi // Päfgens // Paloma Schnitzer // Pastellilac // Paula Ďurinová // Pixi // Prifma // Sofía Fontenla // Spacelight // swub // Tensememori // VAV //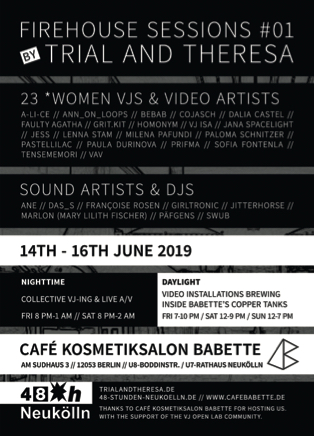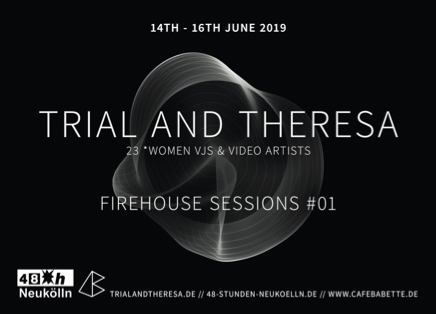 Firehouse Sessions #01
Three days of VJ-sets, Live A/V and video installations at Café Kosmetiksalon Babette
48 Stunden Neukölln 2019: Future III